ABOUT Sunflower Aviation Limited
A good customer relationship is priority here at Sunflower.
The Joyce Aviation Group is owned by Tim and Susan Joyce, who first came to Fiji in 2003, on a round-Pacific sailing voyage with their two young daughters. The family had lived on their boat for 5 years and chose to stay and settle in Fiji. Tim identified an opportunity to develop tourist activities by introducing Tandem Skydiving to Fiji and to expand the helicopter industry here to include tourist flights and medical evacuations.
In 2014 following the success of Skydive Fiji and Heli-Tours Fiji, Tim & Susan Joyce purchased Sunflower Aviation Limited in order to expand their aviation capabilities and to have control over the maintenance and support of their aircraft.
Under new management, the Team will continue and further develop the legacy and vision Sunflower was built on, along with professional and experienced pilots and staff. Our aircraft fleet and operations are well-positioned and equipped to provide the following services:
Domestic Charters & Air Services (Fixed Wings)
Fixed Based Operations for private and non-scheduled aircraft
ANR 145 Aircraft Repair Station
International Passenger Handling
VIP Handling & Express Clearance at Nadi International Airport
Scenic Flight, Tours, and Resort transfers
Hangarage and Maintenance
General Customer services and support
Pilot Training School (Pacific Flying School)
Medevac and Search & Rescue Operations
Aircraft Consulting Services and more….
Over the years, the Group has invested back into the company in upgrading the fleet, facilities, and equipment in maintaining the highest standard in safety and service delivery. The group currently employs about 85 employees.
Our fleet are maintained to international standards and Civil Aviation Authority of Fiji (CAAF) requirements. Our pilots are also trained and certified to international standards and CAAF requirements.
GRAND CESSNA CARAVAN 208 6X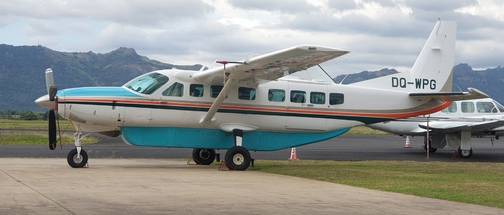 Grand Cessna Caravan 208 6X
Cruise Speed: 180knots
Passenger Capacity: 10pax (subject to weight)
Can be flown for charter and cargo
Can be configured for Medevac
Perfect for big families, groups, and VIP for its individual seats and leg room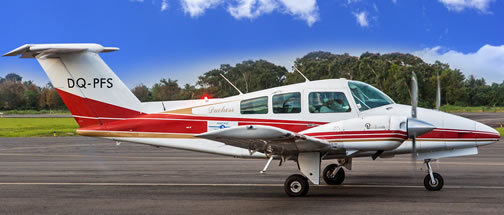 BEECHCRAFT BE76 DUCHESS
Cruise Speed: 150knots
Passenger Capacity: 3 (subject to weight)
Capable of Medevac for seated patient
Aircraft ideal for couples or single traveller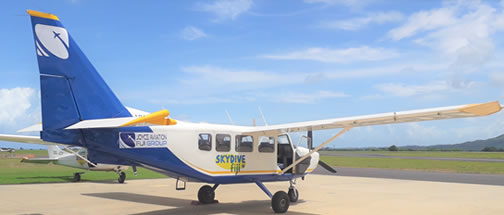 AIRVAN GA-8 TC320
Cruise Speed 125knots
Passenger Capacity: 6 (subject to weight)
Can be flown for charter and cargo
Can be configured for Medevac, Search & Rescue 
Can operate into short rough and unsealed strips
Perfect options for dive groups, surf groups and families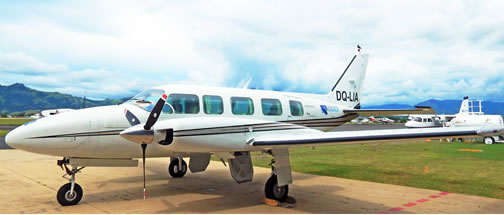 PA-31 Chieftain Piper
Cruise Speed 180knots
Passenger Capacity: 6 (subject to weight)
Can be configured for Medevac or and Search & Rescue
Can be flown for charter and cargo
Ideal for VIP, families or groups that is looking for something private and exclusive